According to the rules for Player Conduct, it includes the following lines:
· It is not allowed to excessively insult, troll, swear, or send spam.
· There is a zero-tolerance policy for any form of discrimination or harassment.
After a couple of hours between considering whether it is fairer to report this or block, or just leave it, I decided to report it. It was in public discord chat, not private. It started because I challenged him on putting words into people's mouth.


In which case, I was told to ask him myself, with Doodle putting a bet later confirmed to also double as an insult.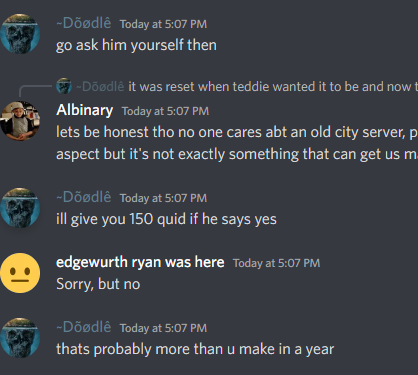 I had responded telling him I did not appreciate it, but I wouldn't block him simply as I felt like it would make me seem weaker than I actually are, blocking someone over something petty. I normally block people if they spam me in private chat, not public. Blocking wouldn't have an effect anyway, for all I know - I could be insulted behind my back.

He had asked what the problem was, and I responded as bluntly honestly, being done with all the bullshit and trying to be as placid as I possibly could without being rude. I felt like I had no choice in the matter other than to say the honest truth.

Later on, when Cake challenged me thinking what Doodle said was a joke, and was corrected by Doodle saying it was an insult, he agreed that it was a dickhead move, and Doodle proceeded to insult me with Cake… I don't even want to describe how this defense was and even backed me up.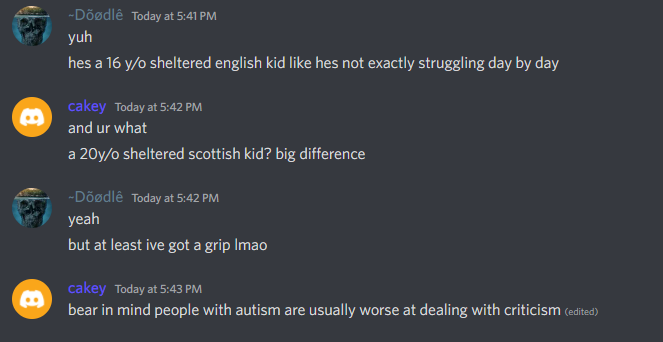 The rest of the discussion/argument/attacks (delete till preferred result) was really confusing for me, since I do not know whether this can be considered related or not since I'm so lost now. I'm still going to attach the rest of the major parts since… well it's a important section.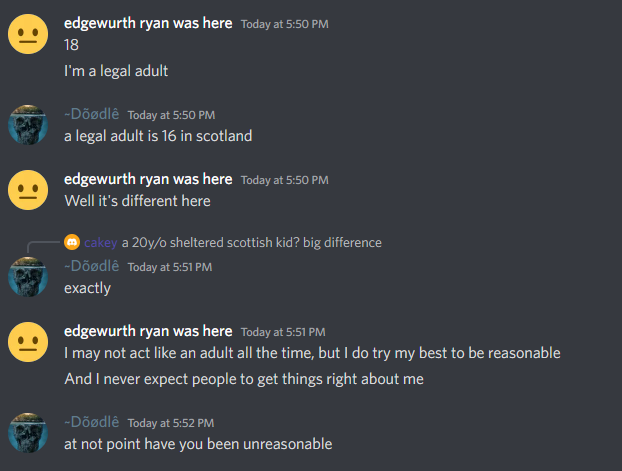 The argument starts at this link, however I won't be suprised if it doesn't last/stay on his end.
I don't regret what I said about this, it was indeed a dickish move, and quite frankly I was once again sick of this bullshit and unneeded responses.