Hello Everyone,
On December 4th, we plan on introducing a new nether world with an organized government tunnel network and private tunnel application system. The old nether will be fully accessible up to this date. After Dec 4, we will give restricted access to anyone who hasn't gathered everything they owned from the world on a case by case basis. If you need access to the old nether past that date, we will keep the world accessible by ticket request on the government discord until May 1 2022.
As of right now, this is a notice to all players so they can begin selling and demoing their old regions and farms. When we remove the old nether, we will release a world download of the nether how it is right now.
How will I get land compensation?
For regions , simply run the /nethersell region RegionName command, It will automatically calculate the land value of your region, and spread it evenly between all owners (make sure only actual owners are added while selling, since all players added as owner will get a share).
It will block you from selling if:
The region is completely within its parent region
You own the parent region
The region or its parent aren't cuboid (poly region)
You aren't added as owner
Upon selling, all sub-regions owned by you that are completely within the region will be removed, and the rest of the sub-regions will be parented to the region's parent, or un-parented if the regions doesn't have one.
If any problems arise from the use of this command, there is a database we can check to solve any issues regarding ownership.
How will I get nether spawner compensation?
For spawners, face your spawner and run the /nethersell spawner command, It will automatically remove the spawner and give you 15,000F for it, you are unable to sell your spawner if:
You don't own the region the spawner is in
The spawner isn't in the nether
The spawner isn't in a region
If any problems arise from the use of this command, there is a database we can check to solve any issues regarding ownership.
What does the map look like?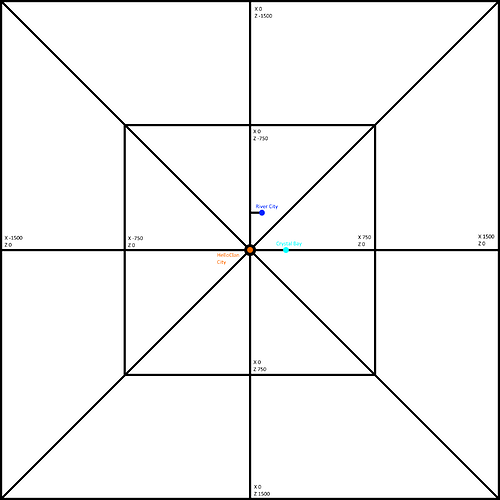 The tunnels are all above bedrock and you will be able to build over tunnels to access your base if the gov tunnels happen to interfere with coordinates of a destination in the overworld. There are 8 cardinal directions that are color coordinated in the nether hub. Horizontal and vertical tunnels all are equipped with high speed rails so players can travel to each intersection via minecart.
What do the tunnels look like?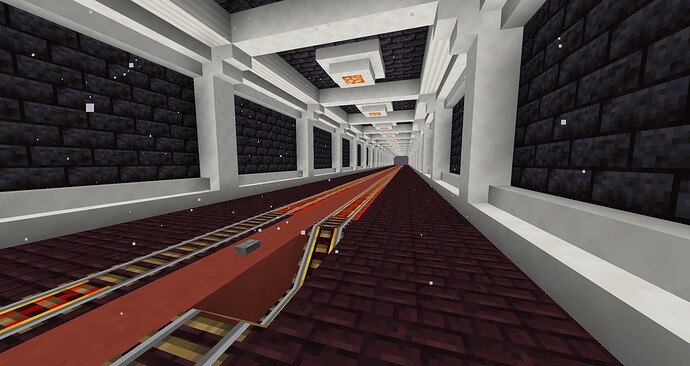 Each intersection will equipped with holograms telling you where each city is and how far. At the destination of a private nether tunnel entrance, we can put up a hologram in the middle of the tunnel. The tunnel is nether themed with panel walls. When you request a private tunnel connecting to the main gov network, you will choose 1 panel to build out from. We will restrict 1 tunnel per panel in order to prevent clutter.
In the coming days I will work on a nether tunnel application channel on the gov discord.
Any questions please ask below.