Commodity Central
Home of Commodity Co, the company.
You can review Commodity Central itself by going to Flowing Meadows or reviewing the building' submission in the forum here for photos:
Our Location:
/warp a > Paradise Hills Airport > Flowing Meadows Airport Button
Should be the first plot infront of the airport.

Do you need a place for a reasonably sized store, a place to expand or set up a new business for income?
Well come rent one of the various of 5 selections from either 700F to 850F. Each selection includes 2 Floors, each floor you may decorate with items, paintings, carpeting as you please!
However rules apply to every single selection if you choose to rent out a space!
Coords for Rules: 3957 / 76 / -2946 located in the Commodity Central building.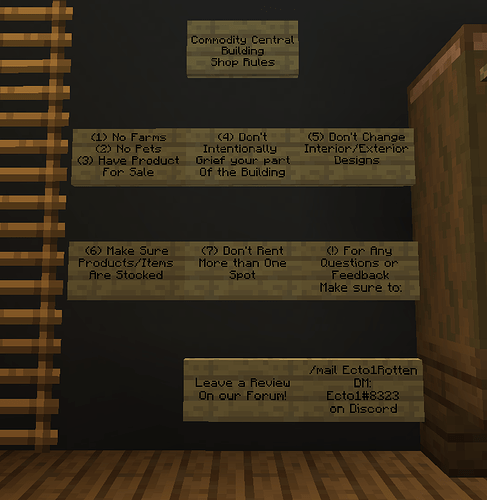 This building is owned & operated by Commodity Co, any violation of the rules may result in removal of the tenant.
Message here on the forums or DM Ecto1#8323 on Discord for any comments, questions or concerns. Or join the Commodity Co. Discord: Commodity Co.
If you rent out a spot and start up shop! Don't forget to advertise!!
Take your opportunity, and sell to the community!