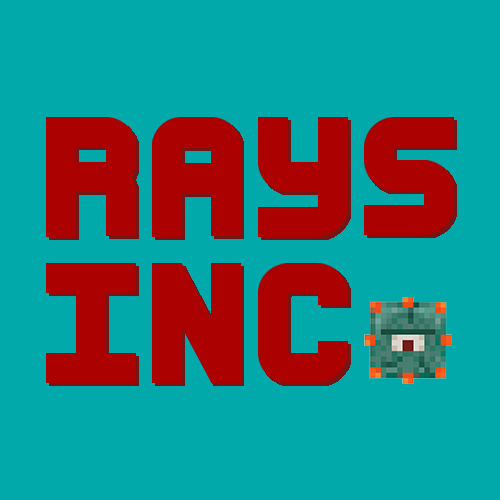 Welcome to the Rays Inc information page!
What We Do
Rays Inc is a general goods company that sells everything from common building materials, farmable goods, to hard-to-get items. We might not have chestshops for everything but we take orders for just about anything you can think of. Here's a list of goods you can expect us to sell:
Prismarine
Concrete
Wood
Clay/Bricks
Glass/Sand
Quartz
Iron
Exp Bottles
Alcohol
Slimefun Dusts, Items, Devices
Stores
Rays Inc Warp RC Square
730, -2010 (Warp RC, Head Straight To The Diamond Block Store That Says "Rays Inc" In Banners)

Rays Inc HelloClan City
-110, -400 (Warp C, Turn Left, First Plot On Your Right)

Rays Inc North City
-350, -870 (Warp A, Turn Left, Grey Concrete and Dark Prismarine Building)

Rays Inc RC Mega Store
720, -2100 (Warp RC, Turn Around, Go Up The Hill, First Plot On Your Right)

Rays Inc Ashford
2300, 2850 (In The Main Part Of Town, Look For The Big Billboard In The Sky)

Rays Inc Montego Bay
655, 1465 (Take A Right Up The Hill After Going Through The Downtown Montego Bay Portal)
Properties
Rays Inc Tower
50, -450 (Warp C, Go Around The Fountain, Right At The Main Intersection, Large Plot In The Back Row By The Water)
Features The Copacabana Bar & Lounge, Abito Nero, and Condos available for purchase! Condos are fully decorated and have benefits like room service and a special edition of the Manta Ray Casino soundtrack. Message Richie if interested.

Manta Ray Casino
50, -550 (Same As Rays Inc Tower, Follow The Water To The Left To The Island Tower)
A historical landmark dating back to 2012, this plot was converted into a casino by Richie. It has the honor of being the server's tallest building. This building's penthouse served as Richie's first HelloClan City residence until Rays Inc Tower was completed. Apartments are available for rent here.
History
Founded in 2015 by ~Richie, ~Alex, and Yootay, Rays Inc has been an integral part of the server's community. While we became famous for being the server's first and main supply for prismarine goods, we have grown significantly. Today with our advanced factories and infrastructure, we are at the forefront of innovation and efficiency.
Employees
Founders: ~Richie (richie_rich123) and ~MisterStark (Yootay)
Junior Partner: ~Zac (ZacTheMan1)
Associates: patrick78 and ~Jacob (JacobMC_)
Departments
Retail
Responsible for maintaining our stores and restocking. To place a large order for general goods (i.e. Concrete) contact Patrick

Entertainment
Provides one-of-a-kind experiences to the server. Managed by Richie, the Entertainment department is responsible for the following immensely popular social properties:
Copacabana
Located in Rays Inc Tower. Features a large full-service bar, stage, and panda enclosure.
Casablanca Cafe
Located in Rays Mansion (420, -700). Features a large dining area, stage, 24/7 bar, and a casino with blackjack, roulette, and poker!
Rays Inc Club House Bar
Located in Manta Ray Casino. The legendary site where the brewing plugin was first tested. Private bar open for special occasions only.

Brewing
Responsible for the production of all drinks sold by Rays Inc. We are the oldest drink producing company and are able to produce all public drinks on the server including a couple of private recipes we own the rights to. Our company drinks are Scotch, Manhattan, and Vesper Martini. To place an order, contact Richie. Prices vary depending on the drink.

Production
Responsible for designing, constructing, and maintaining our farms. Have a farm you want built? Ask Zac. Jobs may be turned down due to availability of workers.