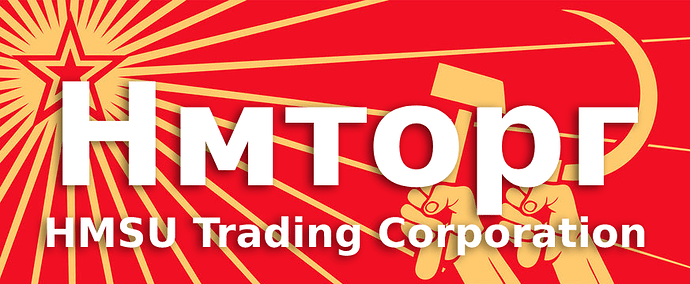 Welcome to the Hмторг Trading Corporation page!
Who We Are
Hмторг (HMtorg) is the first trade representation of the HMSU, replacing previously held commercial entities of the state. We handle all major exports from the HMSU, comprising mostly raw materials and household goods and food/drink. We are also the holdings company for all Hмторг stores in various cities.
Commercial Entities
Blockazon - Retail outlets in prime locations in various private cities.
History
Founded by Mayor Thendil in 2020, Valleyside City soon became the capital of the HMSU, which incorporates multiple cities as part of a soviet themed nation. Following the end of the first cold war in 2021, Chairman Thendil of the HMSU sought to provide a peaceful enterprise based on worker fairness and thus established the Hмторг Trading Corporation.
Employees
Founders: Thendil