Auctioning: westcity001, wc1, wc3, wc4, wc5, wc6, wc7, wc8, wc9, wc10, wc11, wc12
Location: West City
Seller: Government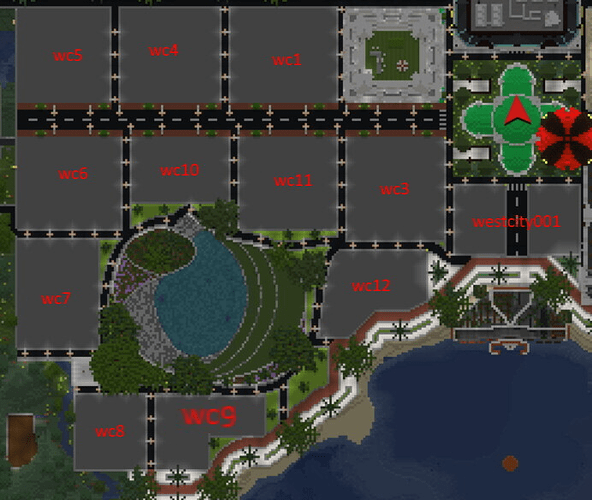 Rules:
No editing or cancelling bids.
The winner must have the money when the auction is over. Otherwise, the bidder will be fined 10% of their bid and the next highest bidder will win.
The auction may be called off at any time by a staff member.
Each bid must include the bidder's username.
Each bid must increase by at least 10% higher than the last.
The auction will end 48 hours after the most recent valid bid.
Banned players may not bid.
Please stay on topic.
The owner of westcity001 must build an archway over the road that passes through.
Starting Bids
westcity001: F33,000
wc1: F39,480
wc3: F39,560
wc4: F36,960
wc5: F34,440
wc6: F37,720
wc7: F34,560
wc8: F20,460
wc9: F14,720
wc10: F24,940
wc11: F35,260
wc12: F18,930 (15f per block cus weird shape)
Architecture Competition:
On December 2, 2022, a forum post will open to vote on the best design among the new builds of this west city district auction. The winner will recieve F150,000 and a special 2022 West City Architecture Competition Plaque, second place will recieve F75,000, and third place will recieve F25,000.
Those who are bidding on the plots, make sure you have built your plots in the 3 month period if you want to participate in the competition!
Last note, West City is currently one of, if not, the most active area for business of all government cities. These plots are not only larger than normal gov city plots but are also very valuable at the moment!